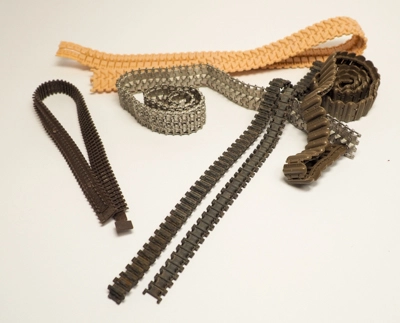 They are featured in soft vinyl or plastic, you can buy them metal or resin cast. In full length, as separate links or even to ones where a single link is made out of several parts!
What are we talking about?
But of course! Heroes of this article are AFV tracks!
Without a doubt well made and weathered tracks are a real eye-catcher and one of the more important parts of every AFV model kit.
In a typical plastic model kit the basic type of tank tracks are those made from soft vinyl - you will find them in cheaper or older model kits of many manufacturers.
Their advantage is an easy and fast assembly on a model kit. Problems - a few. One of which is their springness that makes it hard to recreate a distinct sagging of the track between the return rollers - as often seen on many AFVs. Also paints usually don't adhere well to this material and when putting the track on a model kit - it may flake or peel off. Also the tracks' joint requires some attention - rubbery vinyl is a material that even CA glues don't like to bond! The only solution is to do as usually stated in the model kit manual i.e. join together the track and using a hot, flat screwdriver melt the linking pins so the track will hold together.
But there are also some upsides! Mentioned earlier fast assembly that simply can't be compared with any other track type. They are also usually cast in a dark or black colour - if we don't feel like painting them or are just starting our model building adventure - they would look perfectly OK on our kit. Furthermore, if older vinyl tracks tend to have details only on the outside, leaving the inside flat, contemporary examples are usually nicely detailed on both sides of the track and can provide a compelling finish. Elastic tracks are also a reasonable choice if our kit has very large side skirts - then only a small part of the track's run is visible. With proper painting and use of weathering techniques it's easy to make them look very realistic without venturing for aftermarket parts.
Worth noting is also a specific subtype of vinyl tracks - one that, at least according to manufacturer, can be glued using ordinary plastic glues and painted without a problem using typical model paints. As usual - modellers are divided as to whether they are really that good. If we happen to own a model kit with such tracks - we can see for ourselves what effect we can achieve using them.
For demanding modellers, who seek quality and the best recreation of details and this very distinct (while easy to achieve) realistic tracks look effects, aftermarket sets cast from white metal were created.
We rarely find them in the kit's box as they are the domain of aftermarket companies like Master Club or FriulModel.
White metal track sets contain single links that are connected together using special (included) resin pins or a simple wire in correct diameter. Usually you have to widen the holes in the tracks using a small hand drill - it's best done following the set instruction. White metal is quite soft thus easy to work with.
This creates heavy (metal), workable at each link, very impressive looking tracks that are eye-catchers on any tank or AFV model kit. Their weight makes them naturally sag on the return rollers and properly wrap around the sprocket wheel, especially if we don't tension them maximally.
To get a realistic look on those tracks the easiest way is to submerge them in special blackening fluids made by AK Interactive or AMMO Mig. Using them, remember to pay attention to their instructions of use to get the best effects. It's crucial to thoroughly degrease the metal track links!
I know – these sets are quite expensive, but if we want to improve the look and level of our miniature we should seriously consider buying them. It's especially important if the set's tracks are lacking in look.
Also remember that you will need a CA Glue.
for assembly. Metal tracks are usually universal - fit every model kit of a given machine available on the market. To make matters even easier there is often a chance to buy a set of metal sprocket wheels that will surely fit the metal tracks and eliminate the need of reworking the plastic part.
Another alternative that is constantly gaining popularity among the modellers are single link plastic tracks.
Depending on the manufacturer (e.g. Bronco, RFM) and type of the tracks they can have snap fit links or single links that are made from several pieces and require plastic glue for assembly.
Assembly of such tracks is not a complicated task but can be time consuming. As with other plastic parts such tracks are easy to work with and clean. Gluin (if necessary) is just like any other part of the model kit and proper fit of the tracks is often aided by means of included jig. This family of tracks feature either workable or not workable after assembly tracks.
Troubleless painting, weathering and fit on a model kit as well as being able to naturally lay them on the AFVs wheels are an argument for getting them for our kit (or using them if included with our model).
Their price range is quite broad and depends on the complexity, size of the links and the overall track length. Similarly to metal tracks they are usually universal and fit a wide spectrum of kits.
Another type of tracks that you can get with a model kit are link and length plastic tracks. It means that the single track run is made from longer sections on the upper and lower parts and they are joined using single links on the sprocket and idler wheel.
This is a good solution that takes away the arduous process of building the whole run from single links while not sacrificing details. It's best described as a balance between the realistic look and ease of assembly.
Of course such tracks are not workable, contrary to those built from separate links, though I think that they don't fall behind them in terms of final look on the model kit.
They can be found e.g. in reissues of the older Tamiya kits - usually along the old vinyl tracks and of course in brand new releases of many manufacturers. This type of tracks isn't available separately as the sets are designed to work with a particular kit and the small differences between models from various brands makes them incompatible with each other.
You have to remember that plastic tracks - either single links or link and length ones - share the same advantages and disadvantages as other parts of the kit i.e. - you have to cut them off the sprue (considering hundreds of links in some cases it's an arduous task!), clean them up from imperfections and mould lines. In some cases there might be some unsightly ejector pin marks in visible places which will need filling and sanding...
Latest type of tacks, that only recently appeared on the marked are 3D printed from resin, single link tracks.
Thanks to the ever developing 3D printing technologies detail level in these sets far surpasses even the ones cast in white metal. Links are ready for assembly - due to the printing process they are not requiring any cleanup. Links are joined together either by simply snapping them or using provided pins, which are also printed.
Their advantage is surely the level of details, reasonably quick assembly and ease of further processing - to strengthen the joins you only need some CA glue and the paint and weathering solutions behave like on standard styrene. There are downsides though - resin used in 3D printing is hard, but brittle and as the tracks feature very fine and minute details there is a risk of damaging the parts. You have to exercise caution! There might also be some printing errors or links damaged in transport.
3D printed tracks set in terms of price are on par with metal tracks and their main disadvantage at the moment is narrow offer of track types and sparse availability.
In all described cases it's always worth checking out whether your brand new or stashed neatly on the shelf model kit would benefit from the better and more detailed elements, which would improve its final look and your satisfaction from it!
If you're looking for clean, sharp details, metal and plastic tracks look definitely better than vinyl tracks. The latter, though, don't require a lot of work and are a good choice for the beginners in the hobby. Also if you look for a short assembly time, vinyl tracks beat even plastic link and length types!
To sum it up: every type of tracks for your AFV model has its advantages and disadvantages. I hope that this article will shed some light on this matter and make it easier to decide either to stick with the tracks supplied with the kit or try something different!
Tank you for reading!
Robert