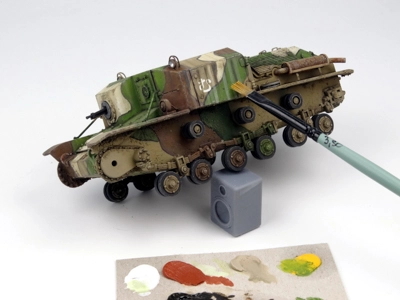 Take a look at another model guide by Witek Socha! This time he tackled a Japanese tankette, so you will be able to see how to recreate their unique camouflage pattern and how to make a very distinct lush jungle foliage on the model's base. And last but definitely not leas - Witek painted the camouflage using acrylics and a paintbrush!
And when you finish reading the guide be sure to see the finished model gallery here:
 https://exito.site/en_GB/blog/2021/11/Type-92-tankette-finished-model-gallery-made-by-Witek-Socha
Type 92 Light Tank in 1/35 scale, Pit Road no. G-16

Japanese light tank Type 92 – which is the hero of this article – was developed in 1931. This new construction was designed to cooperate with still popular cavalry in those days. This approach resulted in arming the tank in only two 7.7 mm machine guns – one placed in the hull and the other in a rotatable turret as a main armament. Weakness of such armament was quickly realized as it virtually disabled this tank from engaging in fighting any armored vehicles. To remedy this problem a modernization program was launched that upgraded the vehicle's armament. Between 1935-39 some of the tanks were equipped with a more powerful Type 92 MG in 13.2 mm caliber and a 20mm Type 98 cannon. Although deemed as an unsuccessful construction, 167 units were made and it was the first Japanese indigenous tankette design.
Type 92 saw action in Manchuria and China. It was replaced by a Type 94 tankette, which also can be found in a miniature form produced by FineMolds or Takom.
Model presented in this article depicts a vehicle before any modernizations in its original configuration. Pit Road released this set in 2009 and a year later a modernized variant of the kitwas also released. Set is a pleasure to build and apart from a few simplifications looks very well assembled. I only changed all grab handles to ones made from copper wire, I drilled the headlamps and filled them with a transparent resin that imitated the glass (original parts were all plastic) and I made new shovel brackets on the hull's rear plate.

So that was the build and how I tackled painting and weathering this small Japanese tank? Read below!


1) Firstly, I sprayed black 1500 Gunze surfacer, and then I sprayed the first colour: Army Khaki Tc-18 from the same producer. I lightened this base colour a little using AK Real Colors Pale Sand.


2) Rest of the camouflage was brush painted using AK 3Gen acrylics.. I painted using glazing technique i.e. with thin, highly diluted layers.


3) A very distinctive element of early Japanese camouflage patterns is a thin black line separating the colours. I painted it using a fine brush and a AK11026 Tenebrous Grey. I think that this very dark grey colour is better suited for this task than a pure black because the latter gives too stark contrast.


4) Next step was a rendering technique using oil paints. At this point I almost exclusively use 502 Abteilung products. Small dots of different colours were placed on each of the camouflage spots and blended using a brush moistened with Odourless Thinner.


5) After leaving the model to dry well, I sprayed a protective layer of Tamiya gloss varnish. Then I applied some decals taken from the Dragon's Ha-Go set. For better application I also used Set and Sol softening liquids from Microscale.


6) As it's well known – a tank with a chipped paint job is a beautiful tank! So I just couldn't pass on making some scratches and chips. I started this process by making a light base for chipping. I used two tones of beige colour. Chips were painted using sponge and thin brush.


7) Finally I filled most of the light base using dark grey paint that imitates bare steel. I recommend using a wet palette during this stage - it will make our paint last longer.


8) For making an imitation of rust on the muffler I reached for the ever reliable Dust&Rust set from Lifecolor.


9) Using different shades of AK Interactive 3Gen acrylics I painted all of the tankette's details. Only for the golden star on the front hull I used an appropriate Revell paint.


10) To accent and emphasize all the miniature's details I applied a pin wash to all panel lines, rivets and crevices. I made the wash out of strongly thinned Sepia oil paint from 502 Abteilung.


11) At this point I left the model to dry for several hours and when it was thoroughly dry I sprayed Ultra Matt varnish.


12) Kit features some rather nice vinyl tracks which I painted using Grime Brown then weathered using Dust Effect and Crusted Rust Deposit. enamels applied using "wet on wet" technique.


13) Streaks and rainmarks were painted using beige and brown oil paints. Small stripes of paint were blended using a flat brush moistened with thinner.


14) Rust deposits were made using Crusted Rust Deposit from AK Interactive.


15) Now it was time to do some heavy weathering. Some accumulated mud was recreated using simple soil that I got from my garden. I fixed it to the model using Gravel&Sand glue..


16) Proper colour of the mud was achieved by applying some Brown Earth Deposit enamel and then softening the effect with a brush moistened with Odourless Thinner.


17) For weathering the lower hull I used a very common hairspray technique. Firstly I covered the model with some hairspray and then sprayed a fine mist of Tamiya Buff paint…


18) …which was later moistened with water. It activated the hairspray layer and using a stiff brush I started to remove the paint thus making very realistic streaks and deposits of dirt.


19) All of the miniature's edges were touched a bit with a Gun Metal colour from AK Interactive's True Metal line..


20) For giving the hull a little more variety I added some other effects using some enamel Deposits products. I used a paintbrush with some of the enamel and striked it using a toothpick onto a model. I faded some and left some. Thanks to this I achieved very realistic mud splashes.


21) Now come some pigments. Small amounts were rubbed onto the model's upper surfaces.


22) Final step of the work on Type 92 were oily stains in the fuel cap area. For this I used an Engine Oil enamel..


23) A model is more complete looking, having a figure along! Even though Pit Road provides a crewman not only it's badly sculpted but also very underscaled. It's more fitting for 1/48 than 1/35 scale. This was remedied by using a figure from MiniArt set no. 35128. I modified the hands position a bit and changed the head for a resin one. Then I painted it using AK Interactive acrylics.


24) Now it's time for the phase that always finds the most attractive - building a small vignette for the model. It's nothing new that a model kit always looks best depicted in its working environment. I decided to make a base showing a small fragment of road leading through the jungle. I also added a small shrine and it was the starting point of this base. Elements were cut from XPS using a Proxxon hot wire cutter table and then glued together using polymer glue.


25) errain was modelled using ordinary tile glue on which I sprinkled some small rocks and some garden soil. I also added some stone slabs from XPS and a tree trunk made out of a stick.


26) A distinctive reddish shade of soil was achieved by mixing Tamiya XF-9 and XF-52 in 1:1 ratio. Remaining details were painted using 3Gen acrylic paints.


27) Making a lush foliage was started from the bottom - I attached some grass tufts from the BSM set and then I added some electrostatic grass and some leafs mix from NOCH (great products mainly dedicated for railway modelling) and finally I sprinkled over with natural mix of dried herbs, crushed leaves and sand. All was held in place using Gravel&Sand glue.


28) To add even more variety I also glued some laser cut leaves from Model Scene. This set is currently packed and distributed by Ammo of Mig under the catalogue no. 8452. A great little addition that will make any vignette more attractive to look at. Paper leaves were attached using CA glue.


29) Weathering of the shrine and stone slabs was done using great Weathering Pencils from AK Interactive. I also sprinkled some moss which would surely appear on any such building in the moist jungle. I used some Woodland Scenics flocking for it.


30) As they are present on the tankette, there have to be some pigments on the base as well. For bringing the scene together I used products from AK Interactive and CMK in shades of red earth. Now the shrine looked a little lonely, so I decided to add a post with some religious text, that I spotted on many photographs of similar shrines in the Far East.


31) Final step was adding some moisture in the tracks of the jungle road. I applied a very glossy varnish from Talens over the tracks to achieve this effect.


32) The base is almost ready, but we still have to dot the i's and cross the t's - finish the base's sides. I decided to adorn it with a traditional Hachimaki headband - more than often seen worn by Japanese soldiers. I made it out of a cloth piece and painted a Hinomaru in the middle with some kanji on both sides. I used some PVA glue to fix it to the base and it was done! Another original and quite niche machine went onto the display shelf!



Witold Socha