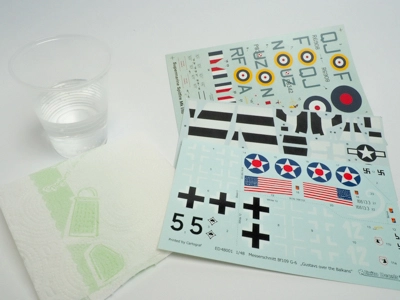 Exito Great test of decal solutions - part I - applying decals on a model kit.
Welcome to our newest article - this time focused on one of the most important fluid-tools in model making and that is: solutions that make it easier to apply the waterslide decals onto a model kit and help them conform to the irregular surface.
TIt's a huge topic to cover and that's why - in the first place - we have divided this test and guide into two parts and in the second - we had to make some cuts and restrictions because of the almost endless choice of decals and decal solution manufacturers.
For now I invite you to take a look at our testing table and see what conclusions will be drawn at the end of this test.
Let's go!
Also please - read the following paragraph about the methodology we took for this test, carefully. Then you will know exactly why we did things this or that way and why we have chosen the following products.
Decal solutions.
We have chosen 8 types of solutions. Our main concerns were availability on a Polish market and their popularity. Our test features both all in one solutions and two step systems. Our test features:
- Microscale Set & Sol. A product-legend. Available on the market as one of the first decal settin solutions. Their great opinion is supported by the achieved effects and many years of presence in the modeller's workshops.
- Mr Mark Setter Neo & Mark Softer Neo. Recommended on par with Microscale system and in similar price range. Since the introduction of "neo" versions there are modellers opinions that it's not working as well as its older incarnations.
- Ammo Mig Ultra Decal Set & Ultra Decal Fix. Those products are quite recent additions in the portfolio of this well established Spanish company. Mid-price range
- Wamod Under Decals & Over Decals. The most budget option in our test. Also present - at least on the Polish market - for some time and with mixed opinions. It is said to be able to damage fragile decals.
- Tamiya Mark Fit. In all-in-one decal solutions it's an iconic product. Tamiya made it = it has to work as intended, right? We are testing mainly basic and the strongest variant - Super Strong. Strong variant should be placed somewhere between them.
- Chematic decal solution. A small jar of another budget product. We wonder how it will fare in this test.
Each solution will be applied according to the manufacturer's instructions on the packaging.
- The Decals.
Here matters are getting more complicated. Currently there are a multitude of waterslide decal types and each and every one of them differs a little either in the thickness of carrier film, reaction with solution fluids, print saturation, strength of the decal as a whole… We decided to make a sort of a compromise and as such we will torment decals printed by:
- Tamiya. They are known for being quite thick but well printed and quite resilient. Taking into account popularity of the brand - there is a high chance you will encounter them somewhere on your model making path.
- Cartograf. This Italian company name equals the highest possible decal quality in our hobby. Fine, very thin film, good resilience and unparalleled print quality - if you spot their logo on a model kit box you are bound to get wonderful markings!
- Techmod. One of the best known Polish decal makers with a very good print quality. ATTENTION PLEASE NOTE! Techmod decals from the current printing runs (dark blue backing paper) are of the same or even slightly better quality than the Cartograf ones. For our test we ESPECIALLY chose their older printings that are known among modellers as "bulletproof" - quite stiff and resistant to most decal solutions. There's a chance that you will find some of those in your stash!
We applied the decals in a classic way - just pressing them with a paper towel to soak up the water/solution and leaving them to dry. We didn't use any tools to help the decals conform to the irregularities of the surface - trying to do it as someone who uses these products for the first time.
Control group.
We have also prepared a control group. Parts were painted with a blue grey lacquer from an AK RC line. As you can also see in the picture - unlike on the other parts, there is no layer of gloss varnish. This was also to simulate a model kit made for the first time by a beginner.
You can clearly see the difference in finish.
Then we applied the decals (two markings from each tested brand) in the correct way:
First we soak the chosen decal in warm water for a few seconds.
When the backing paper is uniformly wet we take it out of the water to let it soften the glue on the decals.
If the soaked decal curls or twists we can gently make it a little flatter e.g. using a pair of tweezers but it's rather for comfort as it won't matter for the decal itself.
Do not soak the decal for the whole time!
If you do so waiting for the decal to become loose underwater - it will remove all the decal's glue and you won't be able to apply it correctly!
Waiting for the decal to move freely on the paper we can dip the brush in the water and smear it around the place where we want to apply the marking. It will help in the proper decal application and makes moving it around easier.
Using a brush we gently check if a decal can be moved around the backing paper. If so - it's ready for application!
We pick up the backing paper with tweezers and place it more or less in the place where the decal is to be applied and angling the paper a bit - slide down the marking onto a model kit - as shown on the photo.
Why this way? Generally decals are fragile (some more than the others) and shouldn't be touched with fingers which might cause them to tear. Also application in such a manner will eliminate the risk of a thin decal to curl up or fold onto itself and get damaged as a result.
After placing the decal in place we take a paper towel or a cotton bud (depending on the decal's size) and try not to move the decal around or distort it - press it onto the marking to soak up the excess water.
That's how the applied decals look.
As you can see on the photo - they cover panel lines and fine details, looking unconvincing and more like stickers...
Our lens focuses on the Cartograf decals:
Even without any aid from decal solutions you can see that the film is very thin and elastic - it goes very well onto some small raised details and even sets a little into broader panel lines.
Let's take a look at much thicker Tamiya and Techmod markings:
There are hardly any differences visible – both decals applied correctly, but there are no panel lines or other details visible on them.
You can very clearly see the silvering effect i.e. the excess of transparent film on every marking. This is the main reason why we have to apply a gloss varnish over the model kit before applying decals - it reduces this unwanted effect to a minimum or even completely.
Let's swap this wing for a one with a very clear and sharp imitation of fabric covering. We'll see how well the decals will apply on a curved, uneven surface without any setting aid.
It's looking well from afar, but let's take a closer look:
Techmod decal is so stiff that even this moderately sized marking isn't able to conform to this waved surface and does not contact the surface in all points. Tamiya does it as well although it applied better and seems to be more elastic even if a little thicker. There is still a lot of silvering.
Even though Cartograf decal is very soft and thin it also has problems to conform perfectly to this surface - especially in the case of a bigger marking. Still - those decals are the best "straight from the sheet".
That's how your model might look if you apply decals on it using only water. Correct, but lacking realism. Time to change it!
Our test starts with a well known Tamiya brand. Their all-in-one decal setting solutions are offered in 3 variants which differ in their strength - from basic one to Super Strong. Sold in a typical, square 40 ml jars featuring a brush in the cap - so you don't need to worry about having one just for this job. Brush itself is quite large and it makes soaking the decal with it easy and fast.
We are doing as the directions suggest: firstly we apply some of the fluid onto the model's surface.
Then we apply the decal - also Tamiya goes first.
We press and soak up the excess fluid from the decal using a paper towel.
And we apply the Mark Fit solution all over the placed decal again. Then we wait for the fluid to react with the marking and dry off.
Right next to it we see how the Super Strong variant will fare. In similar fashion - firstly we apply it on a model and you can see right away that it's way stronger as the paint gets discoloured a bit.
Next steps are exactly like before and finally we apply the fluid onto a placed decal.
As you can see - reaction with the stronger solution appears very fast - the decal starts to wrinkle. Near the transparent film you can also see temporary discolouration of the surface. And the regular Mark Fit? Well it doesn't seem to achieve much of a success with the print of the same brand…
Solution still reacts with the decal - it is now most important not to touch it in any way as it can be easily distorted and damaged. Let the fluid do its work. If we plan to do anything further with the decal - wait until it fully dries.
Moving onto the Cartograf decals – just placing it on top of the surface moistened with regular Mark Fit made the transfer "sunk" into the panel lines and other details. However that's not our goal yet so we apply the solution over the decal.
To the left you see that the Cartograf decal – unlike Tamiya - reacts very nicely to the regular variant. To the right marking applied over Super Strong fluid – react immediately while touching the wet surface so it's better not to use it as an "under decal" solution.
We have waited some time to let the decal dry out a bit and avoid damaging the decal while applying it over the marking. Effects will be visible at the end. Here you can also see a discoloration halo around the marking.
Finally it's time for Techmod – we up the difficulty a bit and place the decal on an irregular surface. As you can see - placing the decal on a Mark Fit solution had no effect on it. And also you can see some places where due to the stiffness of the decal it doesn't conform well to the surface.
We apply the solution over a decal and wait for the results.
In the meantime we place the other marking onto a surface moistened with Super Strong solution. Change is visible right away - decal conformed to the flap, but one disadvantage appeared - marking is so stiff that it cracked.
Applying the fluid over a decal seems to have no effect - transfer is just wet…
We are finished for now, so the wing was left (as others in our test) overnight to dry. We let all the solutions have plenty of time to react with the decals and to dry completely. Next day, we'll see the results and sum up their work.
We start again with Tamiya. Even though there was no visible reaction to the Mark Fit, both Tamiya solutions worked and softened the decal enough for the panel lines to be visible. Super strong acts faster - stains you can see can be washed away with some clean water. Top coat of gloss varnish will also get rid of them.
The discoloration that appeared after using Super Strong solution also disappeared.
Cartograf. Both Mark Fits did great and reacted with the decal very well thanks to which it sunk perfectly into the panel lines. Main difference between placing the decal on a Mark Fit moistened surface and applying it again over the decal is that now the decal is fused with the paint sharing its slight texture.
On the other hand - some disadvantages of Super Strong fluid appeared. It proved to be so powerful and fast acting, that there are wrinkles on the decal that are not present in the other example. Probably another factor contributing to this is using this solution under the decal, which made it work too strong and too fast with such fine and delicate decals.
And how are things in Techmod's area? In fact - they are quite well. After using regular Mark Fit we can see that the decal sunk into the panel lines to some extent, though the result is far from desirable. It would be worth helping the decal by applying the solution again and manually pressing the decal into the panel line using for example tools such as these. At the very corner of the decal a small air bubble formed and it happens quite often. To get rid of it we simply need to puncture the decal in this place with some small and sharp needle and apply the solution again to make it even out.
Super Strong did in similar fashion – you can see more of the panel lines but in general another application + using some tools seems necessary. Though for sure - there is no risk of eating away the decal using this product.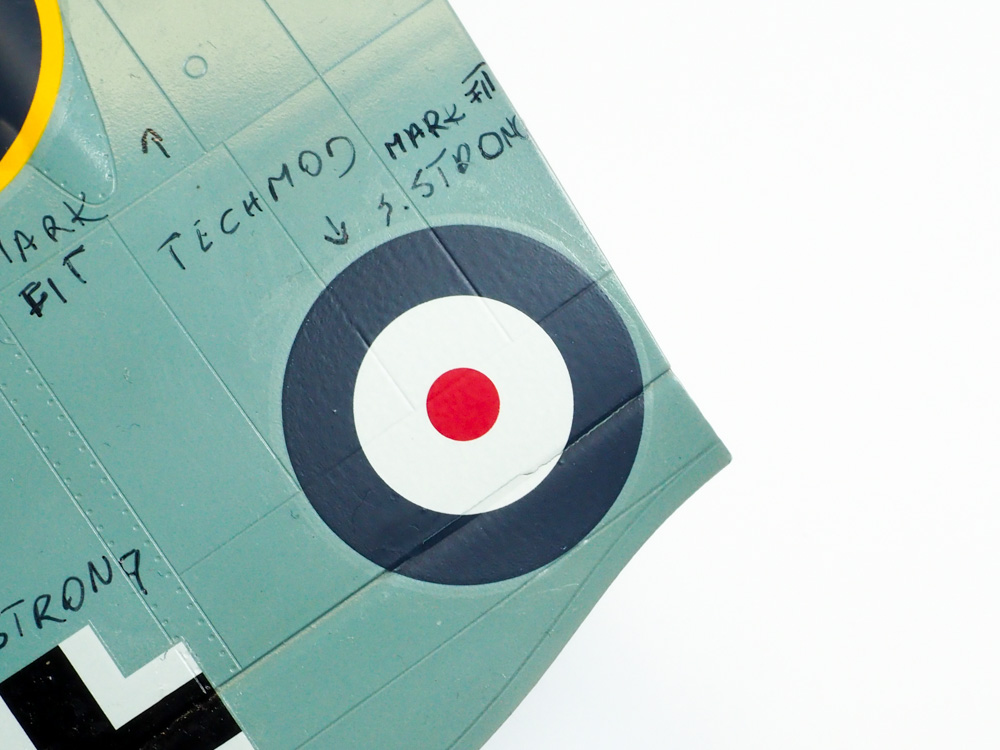 As expected - Tamiya decal setting solutions just "do their job". They can handle - to some extent - even the most stubborn and stiff decals without damaging the painted surface underneath. To achieve even better results you can buy both basic Mark Fit and its Strong or Super Strong variation and use it as a typical two step system. Unless you are working with Cartograf (and similar) or currently printed Techmod decals only. Then you will probably only need Tamiya Mark Fit.
Next up in our test is - also all-in-one type - Chematic solution for decals.
To fancy things here - one product in a small square jar. Cap features a brush, but it's so small that it's hardly usable on a slightly larger decal than a stencil.
But let's see what this fluid is actually capable of..
Fabric covering imitation on our test wing is very pronounced at the same time being quite demanding both for decals and solutions for them, which has to soften them enough to make 'em conform to these irregularities.
As per directions on the label, firstly we apply the solution onto a model…
…and oh my what is this? Chematic begun its test by melting away the varnish and severely decolorationg the paint underneath… It's not looking good for it…
But that's not the reason to discard it! Such problems should be covered by the decals themselves. Here we begin with Cartograf. Decal starts reacting within a short time from placing it. Seeing this it's better not to press it with a paper towel, because we risk destroying the decal. Giving some time to settle we apply the solution over the marking.
Reaction is fast and very strong. I have my doubts, let's wait for the decal to settle properly.
Next on our list is Techmod. Now those decals are not afraid of liquids like Chematic! Though it's easy to see that the marking already has a better fit to the wing's surface.
Several minutes passed since we soaked the Cartograf decal which is not looking too good right now. On the other hand Techmod is slowly soaking up the solution and conforms to the surface better and better.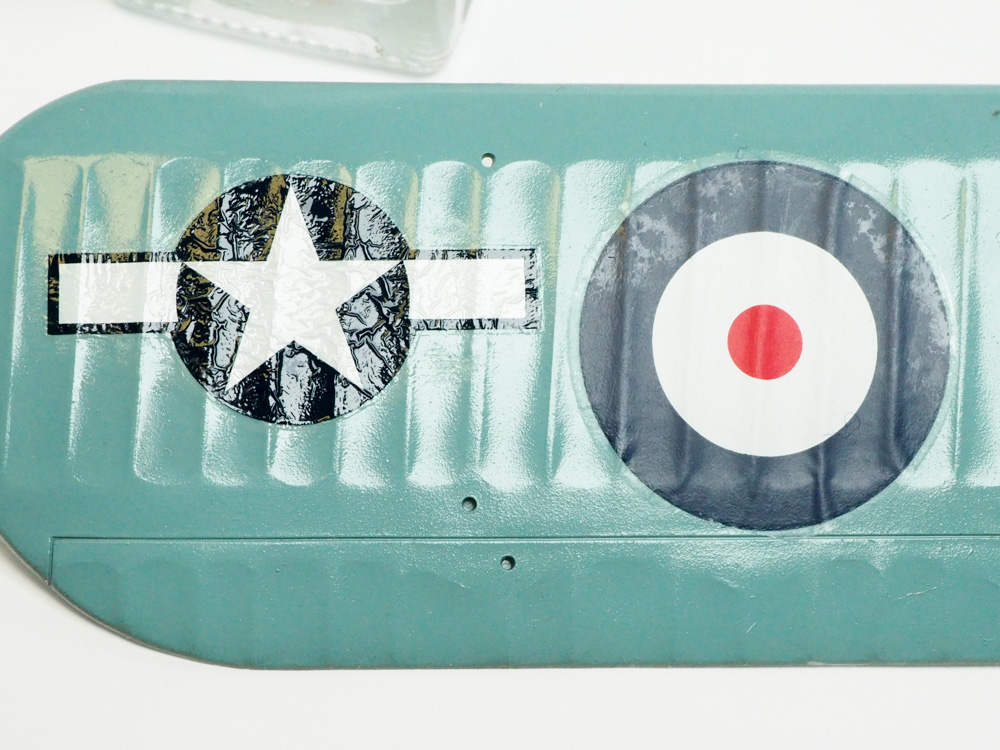 This test segment is closed by Tamiya. After placing the decal on a surface moistened with this solution it behaves in a similar way to Cartograf marking: it wrinkles and softens.
A while for the solution to evaporate a little and we're applying it over the decal. Here the reaction is much stronger than in Cartograf's case - not a pretty sight.
We are back the next day and here are the results:
Although I had my doubts - Cartograf decal looks very good! Perfectly conformed to the surface shape and the film is barely visible at all. All wrinkles disappeared and the marking is not distorted in any way. Unfortunately - there are some fingerprints on the paint which means that Chematic dissolved it a bit - you have to be very careful using this stuff!
Techmod also reacted with this solution. It went onto the surface well although you can spot a wrinkle here or there and a lifted edge on the right side. Oddly enough - those imperfections disappeared after a few days.
Tamiya sadly totally gave in under the overwhelming power of this Polish fluid. A lot of wrinkles, distorted shape - to put it simply: a mess. This decal can't be saved by any means and leaving it on the kit makes no sense - it has to be scrapped.
Using Chematic solution you have to have nerves of steel and very tough decals. It might be a solution in case your shop runs out of Tamiya Super Strong, but you have to be very careful while using it - it eats through paint on the model kit, reacts with decals very fast - which is not always a desirable option. to zdecydowanie płyn dla ludzi o mocnych nerwach i z opornymi kalkomaniami. Może będzie niezłym wyborem jeśli zabraknie płynu Super Strong, ale trzeba bardzo uważać przy jego aplikacji – ma apetyt na farbę, z kalkomaniami reaguje bardzo szybko, co nie zawsze jest dobre.
With this power using it sparingly only over the decals seems a reasonable idea.
We continue with Polish products and now test the first two step system – well known and inexpensive Wamodu under and over decals. Let's be honest - its main advantage is the price - there is no cheaper alternative for it in two step solutions. Bottles are quite tall and can topple easily and a very tight bottleneck is not making application any easier. There are no brushes in the cap so we have to have some at hand.
Let's start!
In two step system there is a clear indication which product has to be used under and which over the applied decals.
Usually - fluids that we are to use under the decals are weaker and might contain additives that will enhance the decal's adhesion to the surface. Fluids for application over a decal are stronger and are the final softening agents, making the decals sink into the panel lines and nicely wrap around the irregularities of the model's surface.
After using Wamod under decals we place Tamiya decal first. Not a minute passes and we can see reaction with the solution - you can spot first panel line fragments that the decal sinks into.
Quick soaking with "over decals" solution...
And the reaction again is quick and strong but what's worse - uneven. Center of the decal is definitely more affected, wrinkling more.
Now it's time for Techmod. Some modellers consider the Wamod's decal solutions as the ultimate product for dealing with their stiff type decals.
After placing the decal on a surface wet with under decal fluid - there seems to be no effect whatsoever. Unfortunately after pressing the decal down you can see that the varnish layer was affected and softened as well.
Application of the over decal fluid also didn't seem to have any effect. But we'll give them some time and see what will be the end result.
As we wait for other decals to dry we place Cartograf marking - quite large, but there shouldn't...
…be any problem. Decal instantly reacts with the fluid and is permanently attached to the first place it touched. Few seconds later it began to wrinkle and that's just the supposedly "weaker" part of the solution! There is no use in trying to touch it before it dries - if you will try to add some over decal solution now it's a guaranteed damage of the whole transfer.
Now a short review of the effects so far:
Tamiya reacts strongly - the effect is now more even, but it's not a pleasant look.
Techmod seems to be completely unaffected by the Wamod solutions.
After giving the decal some time to dry, we managed to very gently soak the Cartograf decal with Wamod's other fluid. It came as a no surprise that the reaction was almost instant. However unlike Tamiya - not as extreme and definitely evenly spread.
We are back on the next day are here are the final results:
Even from a distance you can see that something is wrong with the Tamiya decal. Wrinkles remained and the whole marking had its shape deformed. True - fluid succeeded in pushing the transfer into the panel lines and rivets but what's it worth if the decal as a whole is destroyed and can't be left on a model kit?
But for a change, to the right you can see that Techmod remained undamaged and nicely went into panel lines and rivets. It might be a good idea to repeat the application of over-decal solution and a gentle push in with burnishers, but there is no doubt that the product worked.
Cartograf suffered the most. Not only it didn't have a chance to be applied correctly because of the fluid's aggressiveness but also some parts of the decal were "eaten away" in the flap.
Wamod turned out to be a very unpredictable product. For stiff and thick decals it seems like a good solution but if you apply thinner and more fragile transfers it's better to use other, less aggressive products. It's also worth noting that the reaction with the paint layer was minimal - if we don't distort it and let the fluid evaporate it shouldn't leave any stains.
It's time to reach out for the "American Classic" - Microscale decal solutions. An icon among such products and for many modellers the one an only option for applying decals. Sold in distinct, tall (and topple friendly...) bottles with a wide neck and a blue font for SET (under decals) solution and red for SOL (over the decals). They don't feature cap brushes - you have to have some at hand.
Application time!
At first we prepare the place for the decal by applying some Micro Set fluid. Nothing is discolouring here.
We begin with Cartograf. It conforms to the irregular surface without a problem. Then we apply some Micro Sol. At first there is no visible reaction and only a slight hint of surface discoloration is visible.
Tamiya. As for a thick decal, after a while on a Set solution it applies much better than on the water. It's not reacting quickly which gives us plenty of time for proper positioning of the decal.
Techmod as usual doesn't seem to cooperate. Micro Set under the decal seems to have no effect and it's a similar thing with Micro Sol applied.
After applying Micro Sol – Tamiya began to wrinkle and distort quite heavily. Compared to other decals it's an unusually strong reaction.
Even though a Cartograf decals reaction with Micro Sol is visible, it's not as strong as in case of Tamiya transfer.
We're back on the next day and here are the final effects:
Cartograf - without an issue. Perfectly conformed without any wrinkles and other artefacts.
Tamiya could be better. Maybe more care was needed and some adjustments during its setting period. There are a few wrinkles and the shape is a little distorted in an aileron line.
Techmod – reacted with those products after all, but it would surely need at least one more treatment with Micro Solem and even be forced to cooperate using some burnishers. But all in all - this decal reacted with Microscale fluids.
Once a classic - always a classic. Micro Set i Micro Sol gained their reputation by offering a middle ground - they work and soften the decals but don't damage the model's surface. The result is not always as sharp as with stronger products but you can always repeat application of Micro Sol. They can be safely used on virtually all available decals to a good effect.
Time for our return to Japan to another manufacturer of modelling tools and goods that simply work and get the job done – Mr Hobby.
They offer Mr Mark Setter and Mark Softer, both available only in their NEO version – with a modified formula (in comparison to the products without this suffix). Sold in classic, square Mr Hobby jars with a tall cap and a brush in it. Interestingly enough - they are not as easy to topple as e.g. Tamiya jars.
Let's go! First comes Mark Setter – with an intriguing milky hue. It goes transparent while drying so don't worry - no unwanted stains will appear.
As you can see on the markings (from left to right) Techmod, Tamiya and Cartograf – it's working in a delicate way but even now Techmod shows signs of better adaptation to the aileron lines.
Applying Mark Softer had the most effect on a Tamiya decal which began to wrinkle a bit in a few places. Techmod and Cartograf didn't react in such a way but the latter got very soft.
And here's the final effect of Mr Hobby solutions reaction:
Techmod responded the least, but that's becoming something of a tradition now. However it conformed to the irregular surface and sank a little into the aileron's line. Another Mark Softer application is recommended.
Tamiya had the strongest reaction with the fluid but in the end - it is a perfectly applied and softened decal. I dare to say that it worked 100% as intended with this solution - without any imperfections and wrinkles.
Cartograf is also applied without any problems. Aileron line is nicely visible and the decal without any imperfections.
Mr Hobby confirmed that its products work as advertised and fulfil the task they were created to do. They also don't damage the painted surface or decals themselves. Their reaction is quite subtle and needs some time, but the final effect can be achieved on various types of decals.
From Japan we are going to Spain to see if it's worth getting an Ammo MiG decal setting solution. Typical two step system is sold in round glass bottles. Again - they are a bit tall and also easy to topple and spill the contents. Caps feature a brush - only a little larger than the one found in Chematic product. It's not the most comfortable way of applying the solutions and the small bottleneck makes it harder to use larger brush.
Labels are colour coded - green denotes solution for application under decals and red label is for a solution that goes over the decal.
To the testing!
As with all two step systems we begin with the solution "under" decals. Nothing out of the ordinary - model surface stays untouched.
Cartograf goes first - everything is in order although there is a feeling that applying a decal over Ammo MiG solution is no different from applying it using only water...
Similarly with Tamiya - at this stage there is no difference between using Ammo Ultra Set and water.
Interestingly - while applying Techmod decal there is already an improvement - transfer has better fit to the surface and even seems to be willing to go into the aileron line.
First step wasn't thrilling but it's the application of the Ultra Decal Fix that should give results - I'm hoping that it is here where Ammo products will show their worth.
Just a while since the application - some reaction can be observed on the Cartograf decal. It's not a strong reaction, only a slight wrinkling of the marking. We patiently wait until it's dry.
Something starts to happen on the Tamiya decal - you can see it's getting inside the line. Rest its surface seems unaffected in any way by the solution.
It also seems that the Mig product will react with Techmod, which seems to conform itself clearly to the aileron's line.
But let's not draw premature conclusions and give some time for the solutions to react and dry completely.
And we're back on the next day. Here's how the decals look:
Cartograf - no surprises here. A combination of high quality decal with a moderately strong decal solution gave a great outcome and the transfer adapted to the surface and details very well.
Tamiya also reacted although some unsightly stains appeared (but can be removed with water or gloss varnish). To achieve an effect similar as in case of the Cartograf decal - it would be best to repeat the application of Ultra Decal Fix.
And it turned out that Techmod brutally proved its supremacy over the Ammo solutions. At first it seemed that they actually are able to soften this decal but when they dried it just returned to its shape and went out of the lines and details.
Results indicate that Ammo MiG products can be classified as being very gentle for the decals, working best with higher quality, softer prints. If we apply them under and over thicker and stiffer markings, the reaction will be very weak or nothing will happen at all. As an advantage we note that they are safe and won't damage neither decals nor the surface of the model kit.
Before we close this part of our test - let's get back to those solutions that turned out to be very strong and possibly dangerous for our decals, that is Chematic and Wamod Over Decals. Now we will modify the way of using them and see what result we'll get.
Also - we'll see how the Tamiya Mark Fit Super Strong will do on a very specific form of decal, that still can be encountered in model kits. It's a decal, usually national insignia, that also has its shape printed as a separate white or silver transfer. This solution is used when there is a risk that dark camouflage might be seen through the marking or darken it too much. It might be also used when the decal has a very light colour like yellow. Problem it creates is a necessity of applying one decal on top of the other which will double the thickness of the transfers. How will such thickness affect their ability to sink into details?
First, we apply a white circle that is a background for the proper British roundel. All decals in this example are placed using only water - without using tested solutions before.
Background wen on smoothly - it's slightly thinner than a typical Tamiya decal, so it already went into the panel lines a little. Of course you can apply some "over" decals solution right now and leave it to dry. But we will make the taks for Super Strong Mark Fit a little harder and will apply it on top of the proper decal.
Roundel is applied on the background decal. In such cases, the most important thing is to place the transfers precisely, so no white background is visible at the edges. We are still using water only! Right now we can see that the decal applies very well and also gets into the details a little.
In the same way – with water only, we applied another Tamiya marking (without a background), a star from Cartograf and a roundel with code letters from Techmodu.
Notice how a Cartograf decal, pressed well, gets nicely into the panel lines and rivets.
We apply Mark Fit Super Strong on a doubled decal. Again - reaction is very fast and strong.
The U.S. star was treated with Wamod Over Decals solution. And in this case reaction is not as violent as before and after a while you can see how well the panel lines are emphasised and the decal isn't deformed.
Chematic was chosen to attack the Tamiya decal. After a few minutes there is no sight of excessive wrinkling and both panel lines and rivets start to look sharp and nice.
Next up for a Chematic treatment was Techmod – something seems to be happening after a while.
As we were left with some decals - as a bonus we quickly added one for a test with Mark Fit Strong. It's also a double decal (background + proper marking) and we have applied it onto a demanding surface. Decal responds to the solution and the probably the worst looking is the fragment next to the flap's hinge.
We let it all dry for a day and here are the results.
Quick look at Mark Fit Strong – looks fairly OK. Small wrinkles could be dealt with by cutting the decal. Apart from this - it's very nicely conformed to the details even with increased decal thickness. Only the edges might be quite visible even after another layer of gloss varnish.
Double decal treated with Super Strong looks fine at a glance even though there are wrinkles present... Also - it's not very pretty in the panel lines but we have confirmation that the fluid worked. It's clear that it would have been a good idea to split the process into two steps. First apply the background, treat it with the solution and leave to dry. On the next day, when it has fully dried - apply the proper marking and use the fluid again. In a nutshell: treat is as an application of two separate decals.
Chematic on the other hand did a very clean and good job in getting Tamiya decal into the panel lines. What is more important, it didn't damage it in any way. And now, thanks to a different light angle, we can see the true strength of the Super Stron solution - the decal is heavily cracked (though not deformed). Definitely not the effect we were looking for.
Wamod Over Decals did a good job on a Cartograf decal too. It went into the details perfectly without any damage, deformation or wrinkling.
After Chematic treatment Techmod is not showing a particularly well adaptation. We can see that something happens here and there but to be satisfied with the final result application should be repeated several times.
We have tested all decals and decal solutions in this part of the test. So what conclusions can be drawn?
Again we will present them in two parts – regarding decal solutions and decals themselves.
Decals, as was expected, revealed their different natures depending mainly on the producer and usually it was true to the common opinions about them.
- Tamiya turned out to have its decals somewhere between Cartograf and Techmod. They are fairly thick but quite soft and adapt to the surface and details quite well. Their reaction to decal solutions varies greatly from product to product - it's very strong at times or barely visible in other cases. They are also quite resistant to aggressive solutions - though the effects were varied and not perfect, none of the decals got damaged or eaten away by the tested products.
- Cartograf is correctly considered as a reference product if we are talking about high quality decals. Very thin and soft yet sturdy. They adapt to various details and panel lines even without the help of decal solutions. They react well to all softening products at the same time being undamaged - in most cases - by the strongest of them .
- Techmod turned out to be as bulletproof as it is commonly told. Again I must point out that we have tested older type decals. Those freshly printed - on a dark blue backing paper behave similar to Cartograf prints. Regardless - older decals are very stiff and hard with a tendency to tear during application. They require experience in getting them correctly on a model kit and several repeated applications of decal solutions on them, because in general they are not reacting with them at all.
Of course - this is only a small selection of decals available in kits or as aftermarket sets, but having a reference point in the form of this test you should be able to deal with other brands of prints with ease.
Decal solutions – as Robert already wrote – come in all kinds and sorts. We have tested a very large selection of available products and the first conclusion that comes to mind now is - try different brands and by some trial and error develop method of applying decals that works best for you.
- Tamiya and their Mark Fit solutions offer a product that's worth having. Reasonably prices and working as intended. The Super Strong variant has warnings on its package for a reason - it should be used as a last resort for very resilient decals and even then application should be controlled and careful. To be honest - for the decals used in our test there wasn't really a need to use it and it caused some problems and damage due to its strength and very fast reactions with decals. You can use it selectively though e.g. only in a single place of the decal where you need it to sink more into a panel line or such.
- Chematic is a product with high strength and uncomfortable application - due to the brush being too small. It can damage the decal but if used carefully - it will help a marking get into the details. It struggles - as most solutions - with old Techmod decals. What is more - it reacts with paint layers, dissolving and damaging them. It's best to be very careful to avoid it coming off the decal onto a painted surface.
- Wamod is a two step solution of great strength. For most decals, using one step after another proves too aggressive. It's a good option for resilient decals though, but requires some experience in application. It also has a tendency to leave hard to remove stains and reacts with paint.
- Microscale with their Set and Sol products is a true reference point for all other companies. Works with virtually every decal type and its strength depends on how many times we apply it. Micro Set also works as a safe decal remover - but only if they were not sealed with varnish.
- Mr Hobby offers solutions similar to Microscale but with a little less strength. It's worth noting that Mr Mark Setter, according to the manufacturer, also acts as a sort of decal glue which might be useful if we accidentally wash it out. This feature might also come in handy for older decals or those with weak adhesive.
- Ammo Mig also places among the weaker, but still working decal solutions. They work especially well with softer products. If you have thicker and stiffer decals - don't even bother using those fluids.
To sum up this part of the test - whichever decal setting solution we choose it will always be better than not having one. Be advised, that cheaper products are usually stronger and this isn't necessarily better. It's worth considering paying a little extra for a product that won't have an unpleasant surprise. Also - we can always expand our workshop with new products over time.
You saw how different decals and solutions for them behave on a typical model surface and details. But that's not all - a true challenge awaits in the second part of our test with much more extreme details to wrap around! It will be interesting to see how both the decals and solutions will work.
See you in the second part!
Wojtek.
PS
Of course as always - you might have quite different experiences, so if you developed some tricks or methods for applying decals and want to share them with others - be sure to write in the comments section!